Main content
Emory Cinematheque
---
Spring 2023 Cinematheque
The Emory Cinematheque is pleased to present a celebration of "Camp Vibes, Queer Feelings" in Spring 2023. This series champions camp-themed movies and TV shows from a variety of often critically disparaged genres that, nonetheless, hold emotional significance for and feature the talents of lesbian, gay, bisexual, transgender, queer, questioning, intersex, and asexual (LGBTQIA+) media makers. The program begins with films and programs from the early 1960s, around the time that Susan Sontag's pioneering essay "Notes on Camp" first appeared in print and extends to present-day queerly influential camp media.
All screenings are on Wednesdays at 7:30 p.m. in White Hall, Room 208. The Cinematheque runs from January 18 until April 19 and is free and open to the public. Unless otherwise noted, all screenings will be 4k restorations on DCP. They will be introduced by curator Dr. Ben Kruger-Robbins. 
Find the schedule of screenings below.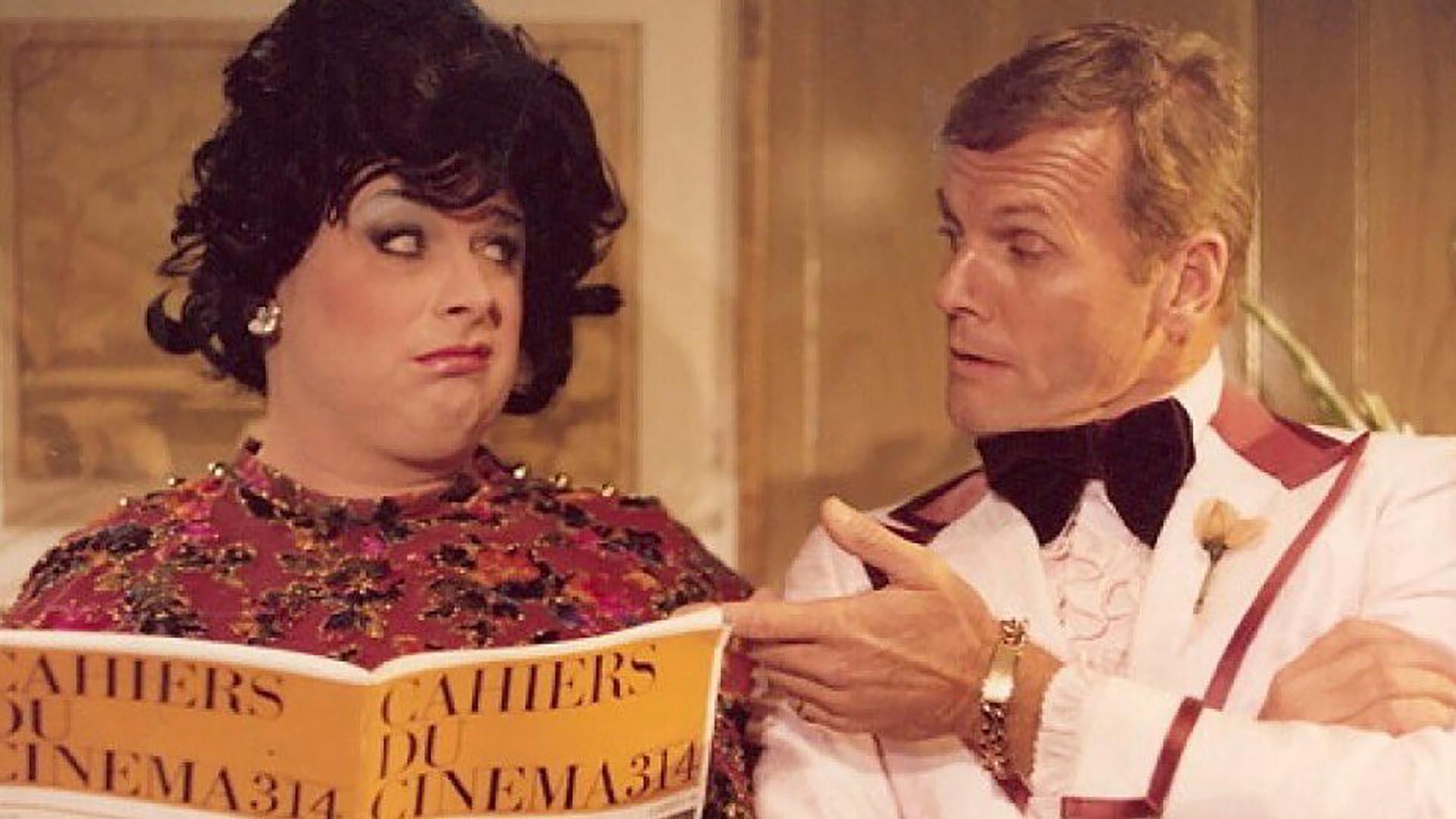 This early 1960s cult horror classic about soiled Hollywood dreams, familial envy, and gendered social expectations remains salaciously hypnotic and thrilling sixty years after its initial release. The film features exhilarating performances from Bette Davis and Joan Crawford as rival sisters placed into murderous contact well after their respective show business careers have faded. James Power, describing the legendary actors' transformative power in his original 1962 review for the Hollywood Reporter, wrote that, "Miss Davis plays with all the baroque technique at her command, which is unmatched by any other actress. Got up to resemble a flour-faced, slash-lipped refugee from the silent days, sporting blonde corkscrew curls, she is visually frightful. She goes about her chores with the somnolence of the insanely purposeful. The part has no shadings, except an occasional horrible coyness, but Miss Davis sustains it by sheer will. Miss Crawford, playing the less gaudy role, has an equally difficult conception. She is ostensibly sane, and she is being starved to death by her sister in particularly gruesome fashion. Miss Crawford plays her scenes of cajolery, panic, and despair with supple skill. Between the two actresses, it is a confrontation of tremendous personality, and a standoff for honors."
William Dozier's 1966-1968 Batman television series catapulted camp iconography into the popular mainstream and produced some of the most sensational queer imagery to grace the small screen. Director Leslie H. Martinson and writer Lorenzo Semple Jr.'s feature-length entry supersizes such pleasures as Batman (Adam West) and Robin (Burt Ward) battle a nefarious legion of supervillains including Catwoman (Lee Meriwether), Penguin (Burgess Meredith), Joker (Cesar Romero), and Riddler (Frank Gorshin) armed with a dehydrator and pre-atomic submarine. Icelandic critic Stefan Birgir Stefans describes the pastel-laden Batman: The Movie as "live action Pop Art…an exhibition of colors and absurdities. It shouldn't work. It's too kitsch for its own good, but it does work and it's as fun now as it was half a century ago." The film is paired with a second season episode of ABC's unruly 1960s sitcom, Bewitched, that marks queer icon Paul Lynde's first appearance as practical joker Uncle Arthur. Here, Arthur engages a battle of supernatural wits against Agnes Moorhead's scheming witch Endora, placing their camp antics at the episode's juicy center.   
German writer/director Rainer Warner Fassbinder's opulent and operatic melodrama about a wealthy and shallow fashion designer, Petra von Kant (Fassbinder regular Margit Carstensen in a fevered performance), and her sadomasochistic love triangle with a submissive colleague, Marlene (Irm Hermann) and a younger woman, Karin (Hanna Schygulla). The film, entirely set in Petra's baroque apartment bedroom adorned with a massive reproduction of Nicolas Poussin's Midas and Bacchus, features sumptuous production design by Kurt Raab, imbued with an erotic charge through Michael Ballhaus's vibrant color cinematography. Queer activist and journalist Jack Babuscio hailed the "camp aspect of the work [that] emerges in the use of calculated melodrama and flamboyant visual surfaces to accentuate the film's complex of interrelated themes [including] the interdependence of sex and power, love and suffering, pleasure and pain."
Director Michael Schultz' riotous episodic musical comedy features the talents of Richard Pryor and George Carlin at the heights of their fame and grapples slyly with gender, sexual, and racial identity all to the beat of disco during the day-to-day antics of a Los Angeles car wash. Media historians such Joe Wlodarz have hailed the film's militant politics while critic Roger Ebert reveled in Car Wash's "dizzying, nonstop kaleidoscope of cars, soul music, characters, crises, crazy kids on skateboards, hookers, television preachers, suds and hot wax."
Polyester marks self-declared "Pope of Trash" John Waters' first effort to court mainstream appeal, albeit in savage and disruptive fashion. His not-to-be-missed extravaganza hysterically sends up 1950s Hollywood melodramas as neglected housewife Francine Fishpaw (played by iconic drag performer and Waters' muse, Divine) escapes her suburban nightmare by leaping into a romantic fantasy with handsome playboy Todd Tomorrow (former Hollywood heartthrob Tab Hunter). Writing about the film for its Criterion Collection release (which arrived with scented Odorama scratch-and-sniff cards), historian Elena Gorfinkel lauded "the legendary Divine doing his best bedraggled Liz Taylor impersonation, routed through the cartoonish Grand Guignol of Sins of the Fleshapoids and the hairpin plot twists and chest-heaving of As the World Turns with a touch of the materialist naivete of Rainer Warner Fassbinder thrown in."
Pedro Almodóvar's outrageous third feature film humorously lampoons the Catholic dogmatism undergirding Francisco Franco's fascist regime. The movie follows cabaret singer Yolanda's (Cristina Sánchez Pascual) misadventures in a convent that once served as bustling haven for prostitutes, drug addicts and murderers. Dark Habits exhibits the director's signature social irreverence and flamboyant visual palate, which Michael Bronski of Boston's Gay Community News announced as "a film style which, while focusing on quirky externals and ephemera, can tell us an enormous amount about his characters thoughts and emotions…this seems to be a singularly gay male technique in which inner reality is transposed onto the external world and exhibited through odd and extravagant artifacts and surroundings."
A controversial and delectable slasher that adopts gay and transgender sensibilities, Sleepaway Camp stars horror icon Felissa Rose as Angela Baker, a traumatized adolescent sent by her eccentric aunt to a murder-plagued summer camp. Alice Collins of Bloody Disgusting cites Robert Hiltzik's debut as unique and exceptional in that "the movie is steeped in queerness, especially when compared to its contemporaries. In its day it took a deeper look into the subject matter than that of other films. Angela's dad is a closeted gay man, there's forced gender bending, and the majority of the scantily clad people in the film are men with all those very short shorts that leave little to the imagination." Perhaps unsurprisingly, the first season episode of gay icon Angela Lansbury's long-running detective series Murder, She Wrote, "Birds of a Feather," addresses gender and sexual transgression through similarly playful images. Here Lansbury's crime solver Jessica Fletcher, employs her keen sensibilities and enlists a queer cohort to investigate a series of murders at a San Francisco drag club.
Japanese New Wave director Toshio Matsumoto contributed one of the movement's most explicitly queer and erotic films with Funeral Parade of Roses, a loose adaptation of Oedipus Rex set in the gay culture of 1960s Tokyo. Androgynous performer Shinnosuke Ikehata (better known by the stage name "Peter") plays a young transgender woman, Eddie, as she undergoes trials and tribulations at and around the Genet, a covert but lively gay bar. Peter Bradshaw of The Guardian called the movie a "fusillade of haunted images and traumatized glimpses, splattered across a realist melodrama of the Tokyo underground club scene, played out in a fiercely beautiful monochrome" upon the fifty-year anniversary of its release.
Gay director David DeCoteau produced a cult sensation with the irreverent and rollicking horror comedy Sorority Babes in the Slimeball Bowl-O-Rama, which stars 1980s "scream queens" Linnea Quigley, Brinke Stevens, and Michelle Bauer as teenagers trapped inside a shopping mall bowling alley after unleashing a devious imp (played by horror punk singer Dukey Flyswatter) who causes bloody havoc. Felix Vazquez of Cinema Crazed celebrates director DeCoteau and his movie for "[featuring] really funny gags including bowling with a severed head…for what it's worth, the film still has a very gritty and barebones quality about it that shines for anyone interested in re-visiting some eighties grade-A cheese." This film fits superbly with  the excessive and unapologetic queer television phenomenon Xena: Princess Warrior, which established a palpable romantic bond between the mythic Xena (Lucy Lawless) and her feisty companion Gabrielle (Renee O'Connor) in its pilot episode, "Sins of the Past."
Filmmaker Jennie Livingston delivered a simultaneously joyous and tragic exploration of New York City's 1980s drag ball culture in her landmark documentary Paris is Burning. The film poignantly follows the lives and captivating performative expressions of marginalized artists who form their own unique communities and family structures within arenas of camp play. The Washington Blade's Elizabeth Donahoe hailed Livingston's documentary as politically "complex and contradictory…celebrating both individuality and collectivism, it is simultaneously a paean and indictment of American democracy." Paris is Burning's social influence reverberates in the transformative reality series RuPaul's Drag Race. In the raucous eleventh-season episode "Good God Girl, Get Out," contestants from diverse backgrounds incorporate camp humor into their subversive interpretations of popular Hollywood movies Black Panther and Get Out.
To start, Addams Family Values features exhilarating, tongue-in-cheek performances from an all-star cast that includes Angelica Huston, Raul Julia, Christina Ricci, Christopher Lloyd, and Joan Cusack. More critically, though, Paul Rudnick's sly script lends this 1990s family film its radical pedigree, evident through the blood-drenched Thanksgiving-themed children's pageant that serves as an outré holiday touchstone for misfits and outcasts. As David Denby wrote in his New York magazine review, "Rudnick and director Barry Sonnenfeld have made the Addams Family a metaphor for outsiders, all outsiders…the morbid family of greasy dark monsters becomes a weapon against the straight world." The 1960s Addams Family television show displays similarly queer and subversive moments, which are most resonant and apparent in the holiday special "Halloween with the Addams Family."
Jamie Babbit's mischievous satire about a gay conversion camp resonates not only as a candy-colored romp but also as a biting political manifesto. The film stars Natasha Lyonne (before her starring roles in Orange is the New Black and Russian Doll) as Megan Bloomfield, a high school cheerleader whose parents send her to a residential in-patient conversion therapy camp to "cure" her lesbianism, and future Happiest Season director Clea DuVall as Megan's rebellious crush, Graham. Critic Drew Burnett Gregory named Babbit's debut one of the most important queer films ever made, surmising that "camp is often associated with gay men, but this movie is explicitly lesbian camp…this is a queer movie made by queer people about queer experiences through a queer lens for queer audiences."
Here is the description: The Spring Cinematheque concludes with Brian Dannely's 2004 camp religious satire about a teenage girl at a Christian high school who has sex with her boyfriend in an attempt to "cure" him of his homosexuality and Danny McBride's devious 2022 HBO series surrounding a dysfunctional family of Texas televangelists. Both lampoon the hypocrisy of right-wing evangelicalism with high-camp flare while also grappling earnestly with the religious values of charity, empathy, understanding, and love. Roger Ebert wrote of Saved! that, "by the end of the movie, mainstream Christian values have not been overthrown, but demonstrated and embraced. Those who think Christianity is just a matter of enforcing their rulebook have been, well, enlightened. And that all of this takes place in a sassy and smart teenage comedy is, well, a miracle." Similarly, Roxana Hadadi of New York Magazine determined that "what makes the second season of The Righteous Gemstones succeed is the sense that, rather than taking only easy shots at people who use Christianity as a shield against rightful accusations of them, McBride and his collaborators have probed deeper into the transformative nature of belief and why it makes such people act that way at all."
Fall 2022 Cinematheque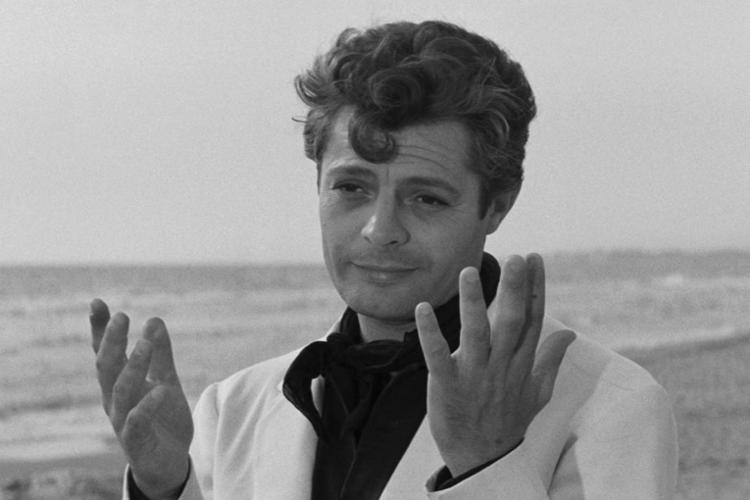 The Emory Cinematheque is back!  For Fall 2022, we are pleased to present "Federico Fellini: A Centennial Celebration." The most widely acclaimed Italian filmmaker of the 20th century, Fellini (1920-1993) worked as a writer and director across forty years; four of his films won the Best Foreign Film Award at the Academy Awards and Fellini himself won a Lifetime Achievement Award in 1993.
All screenings are on Wednesdays at 7:30 p.m. in White Hall, Room 208. The Cinematheque runs from August 31st until November 30 and is free and open to the public.   Unless otherwise noted, all screenings will be 4k restorations on DCP.  They will be introduced by curators Bernstein and Porcarelli, with post-screening Q&As.
Click here to listen to Bernstein and Porcarelli chat with Lois Reitzes about the series on WABE's City Lights.
Past Cinematheque Series
Click below to see brochures from past Emory Cinematheque series. More coming soon.