Main content
Emory Cinematheque
---
Fall 2022 Cinematheque
The Emory Cinematheque is back!  For Fall 2022, we are pleased to present "Federico Fellini: A Centennial Celebration." The most widely acclaimed Italian filmmaker of the 20th century, Fellini (1920-1993) worked as a writer and director across forty years; four of his films won the Best Foreign Film Award at the Academy Awards and Fellini himself won a Lifetime Achievement Award in 1993.
All screenings are on Wednesdays at 7:30 p.m. in White Hall, Room 208. The Cinematheque runs from August 31st until November 30 and is free and open to the public.   Unless otherwise noted, all screenings will be 4k restorations on DCP.  They will be introduced by curators Bernstein and Porcarelli, with post-screening Q&As.
Click here to listen to Bernstein and Porcarelli chat with Lois Reitzes about the series on WABE's City Lights.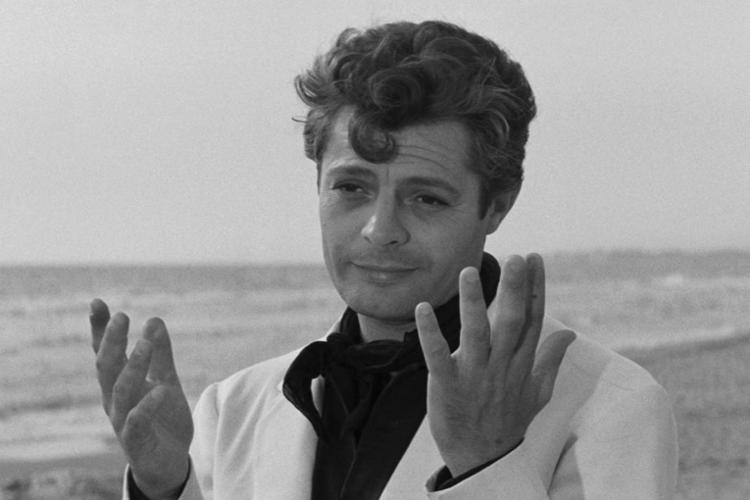 Find the schedule of screenings below.
Roberto Rossellini's powerful follow-up to his Neorealist classic Rome, Open City, relates six episodes (many of them shot on location) charting the northern progression of the Allies' advance from Sicily to the Po River Valley in the North.  Specifically, the film focuses on the often awkward, fatal, ironic and often heartbreaking encounters between liberators and the subjugated Italians under German rule (nearly all played by a non-professional cast).  Fellini co-scripted the film and directed several shots during Florence episode.  Fellini's biographer Tullio Kezich tells us that the future director's experience working on this film "convince[d] him to make his life in cinema." 35mm print courtesy of the Museum of Modern Art.
Fellini's first solo outing as director is a farcical tale of a provincial newlywed wife who abandons her husband during their Rome honeymoon to seek out the object of her obsession, The White Sheik, a character in her favorite fumetti, or photographic comic strips. Like Fellini's co-directed first film Variety Lights, The White Sheik embraces character fantasy and stark realities, showing Fellini's lifelong fascination with spectacle; it is also his first collaboration with the brilliant composer Nino Rota, whose scores perfectly captured Fellini's sense of whimsy and profound emotion.  Il Miracolo is Roberto Rossellini's highly controversial story of a mountain shepherdess (Anna Magnani) convinced her hobo seducer is St. Joseph and that the birth of her child is the result of an immaculate conception.  Written by and co-starring Fellini, The Miracle was condemned by the United States Catholic Church; its distributor's lawsuit led to the granting of First Amendment protection to movies in the celebrated 1952 Supreme Court "Miracle" case.
Fellini and his co-writers created this implicitly autobiographical but highly fictional, episodic, comic and melancholy portrait of six 30-something barely-employed friends (including rising star Alberto Sordi) in a coastal city.  This was his first film to achieve critical acclaim and international distribution.  It also marks his first collaboration with master cinematographer Otello Martelli.  The filmmaker's first focused and sympathetic dissection of enervated masculinity, I Vitelloni's then-innovative portrait of aimless guys just hanging around has influenced countless films and filmmakers including George Lucas's American Graffiti and Martin Scorsese's Mean Streets (both 1973), through Barry Levinson's Diner (1982) to any film from any country on a similar topic.
The innocent, mentally challenged Gelsomina (Giulietta Masina) is sold to the brutal strongman Zampano (Anthony Quinn) as an assistant, and together they tour mostly rural Italy performing. In their travels, they meet a clownish tightrope walker (Richard Basehart) who changes their lives. Drawing on and transcending Neorealist techniques, Fellini's fable-like masterwork established his international stature as a major director, featuring his whose recurring thematic obsessions with the sea, illusion, pageantry and unexpected forms of grace, all accompanied by Nina Rota's haunting score.  Quinn and Basehart provide dynamic performances, but the centerpiece of the film is Masina's astounding, often mimed performance.  Winner of the Academy's first ever annual Best Foreign Film award. 
Giulietta Masina again shines in this, her greatest, must-see performance as the poor, put-upon but fiercely independent and proud Roman sex worker Cabiria.  Her various encounters with a cross-section of Roman society are alternately comic, devastating and inspiring.  Italian intellectual, poet and filmmaker Pier Paolo Pasolini contributed dialogue of the street; the film also marks Fellini's first collaboration with the brilliant, award-winning set and costume designer Piero Gherardi.  Nina Rota's music has never so perfectly captured Fellini's love for his struggling characters in one of the cinema's greatest tributes to the human capacity for resilience.  Masina won the Best Actress prize at Cannes and for the second year in a row, the Academy saluted Fellini's work with another Best Foreign Film Award. 
Condemned by the Catholic Church, the ironically titled La Dolce Vita marked the culmination of Fellini's 1950s work: the most expansive in its scale (including Otello Martelli's use of the Cinemascope frame), the most fragmented in its narrative structure and the most sustained in its presentation of spectacle.  The once idealistic society journalist Marcello (Marcello Mastroianni in his first collaboration with Fellini) both observes and participates in the seemingly endless social whirl of parties among decadent Roman high society in the late 1950s.  Most memorable among these is the night he spends with the stunning, carefree movie star Sylvia (Anita Ekberg in a career-defining role).  Full of iconic scenes (most famously Marcello and Sylvia's jaunt in the Trevi Fountain) that juxtapose ancient and modern Rome, and alternating between comic and pensive tones, La Dolce Vita constituted a definitive statement on post-war life in Italy and all highly- developed nations.  Piero Gherardi's black and white costume design won the film an Oscar.
Fellini's next film marked his decisive plunge into the depiction of character subjectivity that would dominate the majority his work going forward.  Inspired by his own actual inability to create a follow-up to La Dolce Vita, and under the influence of Jungian psychology, Fellini explores with self-mocking humor and clear-eyed perception the creative and emotional crisis that paralyzes the film director Guido Anselmo (Mastroianni again), who tries without success to escape his professional and emotional responsibilities to his co-workers, wife and mistress.  Associative editing, free-floating camerawork and—from its very opening sequence—spectacular, often outrageous dreams, memories and fantasies, combined to astound viewers 8 ½  and place it as one of the major films of cinematic modernism.  Pretty much any film about filmmaking owes its inspiration to this film.  With Anouk Aimee, Sandra Milo and Claudia Cardinale.  Winner of the Best Foreign Film Oscar as well as Best Black and White Costume Design (Piero Gherardi).  
Juliet of the spirits is, in Fellini's words, a movie created "around Giulietta and for Giulietta," and yet it reveals more about the director and his imagination than about his wife, Giulietta Massina, the star of the film. She plays a wealthy middle-aged woman stifled by the constraints of her conjugal life and fascinated by the supernatural. Once she discovers her husband's infidelity, she embarks on a journey of self-discovery and emancipation, all while haunted by spirits, visions, and childhood memories. The complex oneiric structure of the film blurs the boundaries between imagination and reality to visualize the interior landscape of the protagonist. Featuring the virtuostic cinematography of Gianni di Venanzo, Fellini's first color feature offers a dazzling display of illusionism where everything is artificial: the luxurious setting, the vivid colors, and the eccentric magnificence of Pietro Gherardi's costumes make for an atmosphere with baroque vibes able to reach moments of exquisite lyricism.
Loosely based on Petronious'
satirical portrait of ancient Rome, Fellini's
Satyricon 
follows the vicissitudes of two young men, the handsome Enclopious and his friend Ascyltus, as they fight over the love of a young slave boy named Gitone. It is a deliberately designed
anti-epic representation of ancient Rome caught in the moment of its decadence and put on
display through a gallery of grotesque characters, pagan sexual licentiousness, violence, and excess.
Fellini described the movie as "science fiction of the past," a documentary of a dream whose meaning remains fragmentary and incomplete; one that aims to objectify the oneiric vision by lingering on its alien and uncanny nature. Shot in spectacular Cinemascope, the movie invites the same contemplative attention demanded by paintings or frescos as characters are often presented in static frames, almost becoming tableaux vivants. Print courtesy of Cinecitta Luce.
In this impressionistic and kaleidoscopic portrayal of Rome, Fellini intertwines autobiographical memories and pseudo-documentary material, drawing comparisons between the old Rome and the new. There is a young Fellini (Pedro Gonzalez ) who leaves his small town and arrives in the big city, and there is the real Fellini who is documenting Rome in his present day, choosing improbable subjects such as an enormous traffic jam at the Colosseum and archeological excavations in the subway tunnel. A key figure in the realization of the film was Oscar-winning costume and production designer Danilo Donati who masterfully gave life to Fellini's imagination as in the case of the unforgettable and celebrated sequence of the ecclesiastical fashion parade. Rome, which Fellini described as "the most wonderful movie set in the world," is here the stage of sexual adventures, gastronomic pleasures, treasures from the past, and contemporary excesses.  Print courtesy of Cinecitta Luce.
In 1967, following a heart attack that almost cost him his life, Fellini started to write down memories of his early life in his hometown of Rimini. He described the city as "an indecipherable scrawl, scary and tender, with, what's more, the deep breathing sea, that big, open space." Later he would represent his childhood memories and the city with the same affection in Amarcord, a masterpiece beloved and admired by the public and critics that won an Oscar for best foreign-language film. The word Amarcord in Fellini's dialect means "I remember," but the director used it for its seductive and mysterious sound rather than for its literal meaning. The movie, while intimately personal, is a product of the imagination because in Fellini's world remembering and reinventing are one. Through a gallery of unforgettable comic characters, represented in an ironic but lyrical way, Amarcord magisterially describes the wonders of childhood and adolescence, the rituals and triviality of provincial life, and the farcical ideology of the Church, all while ridiculing the infantile rhetoric of Fascism and its allure. 
Fellini's last internationally popular work is a hilarious and savage critique of the rise of Italian private television networks that make banal what is extraordinary in our lives.   The film takes us behind the scenes to witness the creation of a glittering but meaningless, overstuffed variety show full of what Fellini critic Peter Bondanella described as a "grotesque mass media freak show."  By contrast, the featured reunion of alienated dance partners Ginger (Guilietta Masina) and Fred (Marcello Mastroianni), once the most glamorous of stars who are past their prime, provides us with a baseline of meaningful entertainment that is no longer appreciated.  Unmistakably Fellini-esque in its profusion of baroque and absurdist spectacle, Ginger and Fred is tinged with nostalgia for more genuine performance, not least via its casting of the two actors most central to his work and their marvelous performances. Print courtesy of Cinecitta Luce.
Entering the twilight period of his life, 65-year-old writer and journalist Jep Gambardella (Toni Servillo) finds himself overwhelmed by a sense of void and disenchanted by the inauthenticity that surrounds him. He decides to make one last attempt to find beauty and inspiration. In this Oscar-winning film, the spectator follows the protagonist and his company of eccentric friends through lavish parties, sexual encounters, and bizarre art events. In the background lies Rome in all its elusive, timeless, and seductive beauty, providing a counterpoint to the vulgarity of contemporary life. The Great Beauty distinguishes itself through Luca Bigazzi's magnificent cinematography, which enticingly pursues the fleeting beauty Jep seeks. Without simply copying its archetypes, the film creatively recalls themes and atmospheres from La dolce vita and 8 ½, showing that director Paolo Sorrentino is worthy of the maestro's legacy. 
Past Cinematheque Series
Click below to see brochures from past Emory Cinematheque series. More coming soon.